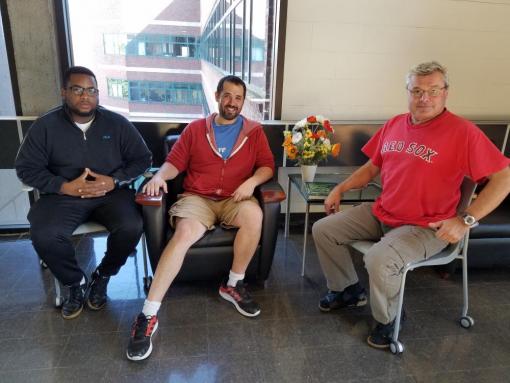 On a beautiful Columbus Day afternoon, MBoA director John Sedivy met with graduate students John Santiago and Shawn Williams to talk about the Brown Junior Researchers Program.
Sedivy: "I have heard that your Brown Junior Researchers Program is off to a great start this fall. Can you tell me what's new?"
Santiago: "This will be our first full year of operation. We kind of ad-libbed it in the spring and over the summer. Now we're really organized, with a full year curriculum. We'll be doing 10 sessions during the fall, one per week. Each session takes place at the Agnes B. Hennessey Elementary School in East Providence, involving students in grades 1 through 5."
Sedivy: "What is the history of this program, and how did you get started?"
Santiago: "We operate through the Boys and Girls Club of America, which organizes after school programs at local schools throughout the USA. So we simply approached them about doing something about "science". However, we are completely a volunteer organization: we buy all the supplies for our experiments out of pocket at local stores such as Shaws Supermarkers or the Home Depot."
Sedivy: "Tell me something about the experiments you do."
Williams: "We made hand-cranked ice cream to demonstrate solute freezing point depression. This of course also explains everyday things like why salt melts snow, but you get to eat this experiment! We made DNA from a strawberry using dish soap and some salt. We denatured protein by "cooking" an egg in ethanol."
Sedivy: "This is very impressive. How many students at Brown are involved in this program"?
Williams: "I'm very excited that we now have sixteen volunteer instructors from Brown, mostly graduate students. Being a volunteer in the Brown Junior Researchers Program provides an opportunity to engage in teaching activities and public outreach experiences that are not typically covered by Brown programs. We are a very diverse group. There was so much interest we had to turn some people down.
Sedivy: "What is the philosophy behind the Brown Junior Researchers Program, and what do you aim to accomplish?"
Santiago: "Our goal is to simply convey the message that scientists are ordinary people, that everyone can become a scientist, and that doing science is rewarding and a lot of fun. We want to get kids engaged in science by providing them with role models that they can relate to. We also want to involve the parents, in particular get them to attach a sense of value to these activities. This will nurture long-term interest in the children."
Sedivy: "What are your goals for the future?"
Santiago: "We of course want to evolve and expand these activities. Right now we're working on a "book of protocols" for experiments that we have done and found to work well. This will make it easier for others to start such programs elsewhere"
To see more about the Brown Junior Researchers Program visit the Facebook page maintained by the Boys and Girls Club of America.
Brown Junior Researchers Facebook Page
Written by Jill Kreiling, October 10, 2016